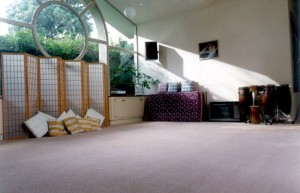 Osho Amito Meditation Centre is the only *Osho centre in Adelaide. It opened on June 17, 1991. The center was opened after asking  OSHO in Pune, He gave his blessing and one of his hats to keep in the centre. Later Swami Jivan Chris, who runs the center, was given a robe  from another centre. Both are kept here in Osho Amito Meditation Centre. When the foundations were laid, the clear intention was to have a place of healing and meditation.  Many visitors comment on the presence of Osho in the centre.
Sw Jivan has a huge collection of Osho books, CDs and audio cassattes in the library. Material can be borrowed or purchased from the library.
The back garden brings everyone close to nature and supports meditation. Sw Jivan Chris organises meditations 3 times a week on every Thursday, Friday amd Sunday. Please click here to find more information on the meditations happening at the centre in Adelaide. Apart from weekly meditations, Sw Jivan organise Full-moon dance celebration nights. For information about these other events at the center, please click here.
 *OSHO is registered trademark of Osho International Foundation (OIF)